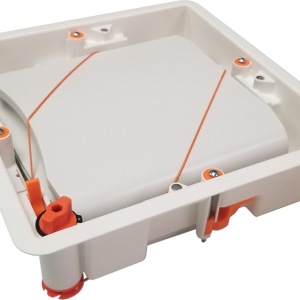 $125.00
Paramount
The Paramount by WhyReboot solves many problems facing the installer and service professional with a one-size-fits all ceiling mount kit that completely hides all your best selling access points.
Installation takes minutes. Simply cut a hole in the ceiling and the Paramount's unique housing and swing clamp system squeezes the setup for a secure and low profile AP cavity. A unique and patented ratchet strap system adapts to hold any device. Simply turn a dial to tighten, connect all power and data cables and the AP will be solidly in place. Once installed, simply snap in the cover flush to the ceiling. Paint the cover to match the ceiling and enjoy!
Paramount's unique design minimizes attenuation allowing for optimal signal transmission through the housing and cover. Your clients will be delighted with stronger signals now that their access points are out of remote areas and are closer to where they are used.
NEED TO ORDER IN BULK?
FOR MORE THAN 10 UNITS, PLEASE CALL US DIRECTLY AT (877) 307-0052.
Description
"I get a lot of products in the mail. Some to test, some to help create, some just to see if they suck. Well this time I was amazed by brilliance. I know building products and quality, and this one is way up top for engineering and quality!!! This ratchet design is a thing of dreams. It is solid as I have ever seen and….. it some how squares up the device in the enclosure! Who thought of this???? The cover is something I have looked at many times as far as blending into a seamless edge on the ceiling, this one does it amazingly well! Great job you guys, this is probably the best engineered and easy to use enclosure I have seen yet. And yes, this is one of the few devices I have received that will actually be used in my home!!!!!"
– Joe Whitaker | President of The Thoughtful Home
Quick, screwless installation of AP.
No zip ties or velcro, professional look and result.
Reduces number of AP units required for room coverage
Safe, secured use for unstable installations such as yachts.
Brings access points closer to client devices, ensuring faster connections.
Paintable cover allows matching decor, completely hides AP devices to please interior designers.
Protects and hides access point and wires to prevent damage, theft, or unauthorized
alteration.
Service in minutes, easy to upgrade,
modify, or replace installed AP.
Lowers installation and material costs.
Client satisfaction guaranteed.
Swing clamp tightens to ceiling material using a screwdriver.
Housing construction is optimized to minimize signal impact.
Includes spacer to bring smaller access points closer to ceiling surface.
The only truly universal mount on the market, fits the largest APs available up to the Ruckus R710 (AP dimensions up to 8.9" x 8.9" x 2.65")
Ratcheting cable design for one-handed adjustments to tighten and loosen the installed device.
Includes hole template for foolproof measurement.
Ingenious design ensures cables won't slip out during installation.
5-year money back guarantee and warranty.
| | |
| --- | --- |
| Height: | 2.23″ |
| Base Length: | 11.47″ |
| Base Width: | 11.47″ |
| Lid Length: | 13.47″ |
| Lid Width: | 13.47″ |
| Cutout Length: | 10.625″ |
| Cutout Width: | 10.625″ |
Additional information
| | |
| --- | --- |
| Weight | 4 lbs |
| Dimensions | 16 × 15 × 4 in |